Does your desktop lack a webcam? Is your laptop's webcam of poor quality or placed in an awkward angle?
There's really no need to buy an extra webcam (and microphone) – especially if you only use it occasionally.
Your (old) smartphone has an excellent camera, and a high quality built-in microphone. Wouldn't it be great if you can just use those on your PC? For your Zoom- and Teams calls or Youtube and/or Twitch livestreams in OBS… Your audience or clients will certainly appreciate the near-perfect image quality.
In this case I can strongly advise you to use DroidCam. It's a simple tool for Android and iOS devices to connect your smartphones webcam and microphone to your Windows PC.
The basic version is free, but has limited functionality (low resolution, 4:3 and no advanced features.) It's a good way to test the app first before buying the complete DroidCamX version (Android / iOS through in-app purchase)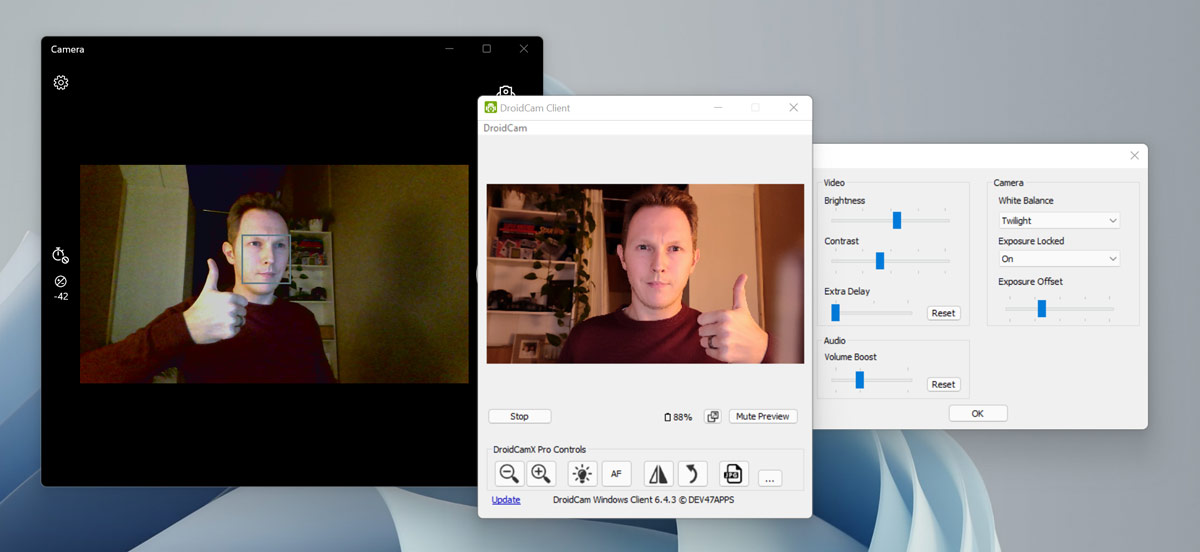 DroidCamX is very complete and can do many things:
It works both wired and wireless. (I strongly suggest to go wired* for optimal results)
You can rotate/mirror and zoom the image
Manually adjust and lock the exposure for the best image quality according to the surrounding light conditions
You are able to enable/disable your LED flash(light) to optimize lighting in dark areas.
Select either front or back camera of your smartphone
Adjust the brightness, contrast and white balance for accurate colors
The camera feed is treated the same as any other webcam, so you can access the feed it in pretty much every piece of software
I haven't tried it myself yet, but DroidCam also makes it possible to use your smartphone as a network IP camera. This way you could access your camera through any browser.
It enables up to 1080p streaming, but I must say 720p is more than enough for most videocalls
*If you wish to use a wired connection on Android, you'll have to enable 'USB Debugging'. (you can find this in your developer tools on your smartphone. You might have to unlock these tools first, usually by tapping the Android build number a few times in 'about this phone'.)
DroidCam can also be your streaming device
The 'Droidcam' camera can be selected in any type of video streaming/capturing software like Filmora or OBS. This means it's also a great tool for recording and editing video podcasts and vlogs in high quality. You won't need to transfer files from your smartphone and you can see what you'll get in real-time.
Droidcam is an excellent little investment if you need a high quality webcam and/or microphone. Especially since we have to work from home so often, it's a nice gesture to offer colleagues and clients excellent image and sound quality during conference calls. A great way to put your old/spare smartphone back to work!