Ok, so you've seen most reviews about the Xiaomi Mi 11. You know the Snapdragon 888 performs excellent. The screen is absolutely glorious and its stereo sound is great.
I've been using the Xiaomi Mi 11 for about a month now as my daily driver, coming from a Galaxy S7 Edge. And as the PowrUsr that I am, I'd like to give you a more advanced and in-depth perspective to this smartphone.
Things you should realize about the design of the Xiaomi Mi 11
I love a thin phone. Also I loved the curved edges on my S7 Edge. But I did notice most high-end smartphones have become significantly bulkier (read: fatter) these past years. So, as most reviewers glorified the thinness of the Mi 11, when I compare it to my 4,5 year old S7 Edge, the Mi 11 is slightly thicker (and that's excluding the camera island!) But it's still a very thin design.
Personally I'm a big fan of curved screens. I think it looks classy and it adds to the illusion of thinness. The screen of the Mi 11 is also curved, but less than the S7 Edge. So if you're on that 'I don't like curved screens'-side; don't expect too much troubles with accidental touches and don't let it hold you back. The operating system (MIUI) also allows you to set safe zone to prevent said accidents: You have a few options: 'auto', 'large', 'small' or 'custom'.
The curved-gorilla-glass back and metallic frame feels very high-end. It feels exactly the same as a glass trackpad on laptops, so consider it slippery. I can't say if it's fragile… yet.
The size of the phone isn't extreme if you'd ask me. Even though I have about 1.3 inches of additional screen real-estate, It's just 14mm longer than my S7 Edge used to be. This is due to the virtually non-existing bezels, the 20:9 aspect ratio and a very impressive screen-to-body ratio (>91%).
Sadly, the corners of the screen on the MI 11 are a bit over-rounded and they don't fit the corners of the body perfectly… But that imperfection bothers me way less than I'd imagined. So don't let it be a deal-breaker. The screen is just too stunning and you'll forget about it quickly.
Personally, I've never experienced the phone getting warm, let alone hot. But keep in mind: I'm just a casual gamer and I don't think I've really pushed the phone to its limits yet.
That glorious screen and its optimal photo/video experience
The first thing I did after I first booted the device was enable its maximum resolution (3200 x 1440) and 120hz mode. And oh my god what a crisp, butter-smooth experience it has been. Don't worry; this barely impacts my battery-life, as most reviewers made me believe. For example, today I've used my screen over 4 hours and I'm still at 54%. (some video, mostly browsing, no gaming). But I'll talk more about battery life in a bit.
I always enable dark mode and use <50% brightness. It's comfortable for my eyes and prevents burn-in on OLED. The MIUI software works great with Dark mode as everything looks well-adjusted. But be aware of the 'additional dark-mode settings'. At some point I noticed the phone made some websites, images or even my wallpaper too dark. First I thought it was poor calibration, but it appeared to be an extra setting in dark-mode which 'automatically adjusts the backgrounds in dark mode'. So I switched this option off.
Technically speaking, there's no real reason to dim the screen even further from very dark gray to full black, as doing so saves just 0.3% of your battery life.
There's also an option to just dim the text a bit, I left this one on as it makes reading a bit more pleasant.
Speaking of calibration, I'd suggest you put the 'color scheme' in display settings to 'original colors' if you want the most accurate colors and best possible image quality.. There's also an auto- and saturated mode, but I actually noticed the over-saturation in a few movies, which shouldn't happen.
Get the very best out of your video
When it comes to video, there are also a few AI-enhancements you can do. You can EITHER enable super-resolution OR MEMC (interpolation, which makes videos smoother). You can't enable both, but I've only enabled the MEMC so far as I (unpopular opinion incoming) prefer higher framerates in movies and series. There's also an HDR enhancer, which I left disabled because I prefer movies as the director intended them. Finally there's an AI image enhancer, but this only works in the gallery. I left this off as well because I want to see what my photos actually look like, and not some 'enhanced' version which looks different on PC or TV.
You can 'manage your video apps' in the settings. Here you can select in which apps you'd like to enhance the videos. So if you'd like to disable said features/enhancements in a certain app, you can.
The last thing I'd like to point out is 'Full screen apps'. By default the system doesn't let you use the entire screen. For some crazy reason Xiaomi thinks the 'Notch' (that tiny dot) bothers us so much, that we'd rather just keep that whole area unused… But this gives you a strange asymmetric/incomplete viewing experience when watching movies full screen. Luckily you can just enable all apps (but you have to manually enable for each!) to allow full screen viewing.
Let's talk features, bloatware and ads in the Xiaomi Mi 11
Xiaomi phones are often a bit cheaper than their Samsung counterparts. But where's the catch?
First of all: there is some bloatware. Most of which is easy to uninstall. However there is some bloatware which can't be removed by default. Luckily there is a relatively easy way to Debloat any Xiaomi Phone (Step by step guide) without resorting to Root or an unlocked bootloader. Which actually turns this into a plus for me. I prefer keeping the original rom intact to ensure updates and proper working of streaming or banking-apps which can sometimes stop working on rooted devices…
Sadly some ads are present by default, but I must say 2 things:
1) I've barely noticed any throughout the whole system.
2) I barely use any Xiaomi apps. And luckily they allow you to turn off ads in said specific applications.
Finally, because it's android, the system works great with Blokada, which blocks almost all ads system-wide, and will also protect your privacy, performance and battery life.
The phone is feature-rich, and MIUI is definitely a step up from stock Android. However, the experience isn't as refined or as-rich as e.g. a Samsung S21 would be. The default browser, video player, gallery and music player… are all just not as good as Samsung's versions. But feel free to install your own alternatives (more on that in a minute)
You can also see some very small software-related issues like e.g. small misalignment in text in notifications, but it's no big deal, and I expect these things to get fixed in future upgrades of MIUI.
Finally, most Xiaomi phones lack MHL/Video out over USB-C, and the Xiaomi MI 11 is no exception. This could be a deal-breaker if you'd like to connect your smartphone to your TV or monitor to enjoy movies or games on the big screen without lag or compression. Streaming wirelessly is -of course- still an option, but an actual HDMI-like connection is not possible. Neither can you enjoy a desktop-mode, like Samsung DEX. Who knows they can still add this feature in future upgrades, but I wonder if it's possible without the hardware-support of MHL… Perhaps video-out can still work over (inferior/compressed) display-link technology through a usb-c dock with video-out, but I haven't tested this myself yet.
Using 2 apps at the same time is a delight. Because of the tall screen it's really nice to stream videos on the top and chat with friends on the bottom or just browse the web.
But going to split-screen mode is a bit less intuitive compared to Samsung's 'one UI', and you can't easily switch the running apps up and down, which is a shame. You can also use floating windows. I've never felt the need to use this feature, but I'm sure it can come in handy.
You can enable the split-screen and/or floating windows by going to your task-manager (which shows all active apps) and press long on an app. 4 Options will appear.
A little lock which will force the phone to keep the app running in the background (so no battery-saving or time-out system can kill the app).
A Split-screen icon, to open the app on the top, and next you can select a second app for the bottom or just go back to the homescreen and just use your phone in the bottom.
A Floating window icon to open the app… in a floating window.
A settings-symbol which takes you to the App settings in Android settings.
Some additional highlights
Android Auto works great. I connected it to my Nissan Leaf (2018) and it was noticeably faster/snappier than it ever was on my S7 Edge. I always thought the car just had a very slow processor, and that that's why Android Auto felt slow… Turned out I was wrong!
The Fingerprint reader is great and is on a very comfortable position. I honestly can't say that it ever misread my finger.
A little tip I can give: Register every finger twice to maximize recognizably (so for example: finger 1 and finger 2 can both be your right thumb)
In MIUI you have a few system navigation options; Either you use the on-screen buttons in the bottom, or you use the gesture based controls. Here you have an option with a white bar in the bottom or you can go without any UI-elements in sight. I prefer the cleanest possible interface and chose the latter, but it took some getting used to quickly navigate between apps or go back to the home screen.
Sadly, these gesture based controls are not available in my all-time favorite launcher Nova Launcher Prime. That's also why I decided to give the default Xiaomi launcher a chance. To me it feels pretty great because my default settings in Nova were always: slide up for app drawer, slide down for toggle panel. The only feature that I miss a little is that you can't hide apps in the app-drawer. I'm also expecting the very impressive(!) 3D animated Super wallpapers won't work in different launchers anyway. So for the first time in 10 years- I've stayed with the stock launcher and enjoy using it!
Speaking of Super Wallpapers, there's something really cool you can do in the category "Live Wallpapers". When you press the little 'plus' icon in the bottom right, you can set any video as wallpaper for the home- and lockscreen! It's something so simple but so cool. Imagine creating a 'cinemagraph' or a nice portrait video of your friends or family without too much motion, or some drone footage in the mountains… the result looks totally awesome! I might use one of my fractal animations, rendered in the right format.
Wireless charging, and reverse wireless charging are nice-to-have features as well. My edition of the Mi 11 came with a free Xiaomi Mi True Wireless Earphones 2S (like EarPods). Its case contains a battery and supports wireless charging, but I don't have a wireless charging pad at home… Turns out I can just put it on the back of my new phone and it charges as well. It also works perfectly through my cheap AliExpress case. Cool, now I never have to bring the charging cable anymore, as the phone sports plenty of battery life. This can also be useful to charge your friends phone or devices without any wires.
Keep in mind: this only works after turning on 'Reverse charging' in the Android toggles panel, and it will temporarily disable NFC: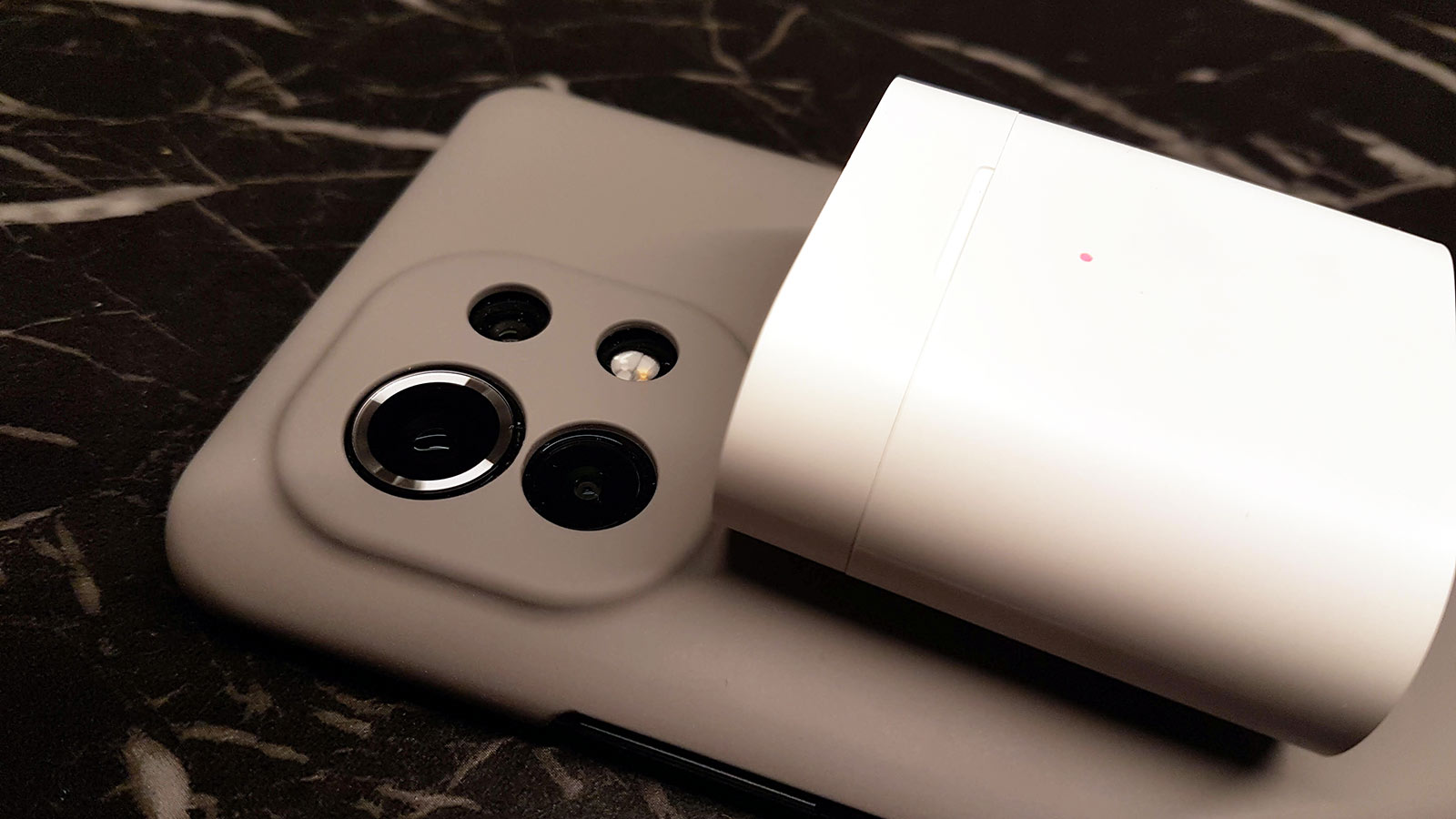 The IR blaster works as expected. It works good with my LG C9 Oled TV. It's too bad though I can't specifically add or remove buttons in the default app. I'd love to create a few shortcuts to enable/disable energy-saving modes or subtitles… Maybe some day I'll check the Play Store for more advanced apps.
The default browser, music and video player on the Xiaomi Mi 11 aren't the best of the best to say the least…. But I can really recommend using these alternatives:
Video player: Use VLC. It plays every possible video file (even in HDR) perfectly and allows streaming videos and music from local UPNP/DLNA streaming servers like a NAS. It's also very easy to increase/decrease brightness or volume, and switch to the right full screen mode.
(but keep the built-in Xiaomi Mi video player. It is necessary to properly play video's in the default gallery app.)
Music Player: I haven't used the default Xiaomi player, because Black Player is and always will be my go-to music player. (believe me, buy the pro-version. It's worth it!) Black Player very lightweight, has tons of features and is extremely customizable. It's just the perfect music player for people who enjoy a sleek, minimal player. Oh, and by the way, both Black Player and VLC support Android Auto.
Browser: Unless you really want to sync your data from Edge or Chrome, I'd suggest you try the Samsung Browser! First of all: it uses far less energy than Chrome or Edge (!especially on older devices). It also has -by far- the best intelligent dark mode for every website, has a very comfortable 'reading mode', supports single handed use… it's just a great mobile browser altogether.
In conclusion, the phone is very rich in features. I would like to point out I've only just scratched the surface of all features/functionality in MIUI. I know there's also some innovative privacy tools, but haven't used them yet.
As far as I understood "App-lock" allows you to hide up to 8 apps, and the experimental "second space", allows you to enter an entirely different environment/homescreen by logging in with a different pattern or designated finger. This seems like a great idea if you use your smartphone for private communication or manage bank and/or crypto transactions. If anyone needs to use your phone for whatever reason, they won't get to see any of the other things. This can also come in handy if you have to share the device with your spouse.
Games and emulation
Obviously the Snapdragon 888 performs excellent at pretty much any android game you throw at it. Personally, I enjoy the occasional emulation. I've tried some heavier Ppsspp (PSP Emulation) and Dolphin (for N64, Wii and GameCube games). I must say, everything is running excellent at 2x resolution or more. I've been enjoying WipeOut Pure and Pulse, F-Zero GX, Luigi's Mansion… and it's an absolute delight playing it all with a bluetooth controller.
Final notes about the camera & the battery of the Xiaomi Mi 11
I'm not going to write too much about the camera because I don't have enough experience with other high-end phones to make an honest comparison.
I absolutely love the macro lens. It's very impressive how close you can get and the amount of detail you can capture. Most reviewers have written this feature off as a 'gimmick', but I really enjoy it. I've taken photos of flowers, eyes, electronics… it's just mind blowing. But, you need a stable hand. Sometimes the shots get some motion blur.
The rest of the camera system on the Xiaomi Mi 11 is just absolutely excellent for a casual user like myself.
The pictures of both the wide-angle and the main camera are damn-near perfect.
The portrait mode adds great bokeh-effects without artefacts
The night-mode is just absurdly good. It feels -even in the darkest situations- like taking a photo with a good flash.
The Pro mode is also great, but I find it a little bit harder to get absolutely perfect toned images compared to my S7 edge.
I love filming with this camera. The extra stability features in addition to the Optical Image Stability work great, which comes in handy for a guy like me with a wobbly hand. Also even darker shots in 4K are very crisp and stable. I have no idea how they can achieve this quality, but it feels like you're shooting with a gymball without losing much image data due to cropping. Consider me impressed.
The only downsides to the camera system are:
I did notice the camera tends to add a tiny bit too much 'HDR' effect to photos.
The lack of optical zoom is just a bummer. Luckily the 108mp allows for some descent cropping.
The battery is hard to review… but.
I've heard some reviewers complain about the MI 11's battery life. But every situation is unique.
After using it for about 3 weeks now (with full resolution and 120hz), I've experienced excellent battery life. But keep in mind: I debloated my device, use it in dark mode, have Blokada set-up, have very few apps running in the background, barely use maximum brightness and have limited the AI image-enhancements.
With very little use, starting from 9am I can reach the late afternoon with still 90% left.
I've had days with over 4 hours of screen-on-time browsing, video, chatting… and still have 58% battery remaining at the end of the day.
I don't feel like the battery drains fast during heavy use.
So there you have it. I hope you've learned from my experience and that you now know what you needed to know about the Xiaomi Mi 11 before deciding whether or not to go out and buy one. If you have any questions left, feel free to ask me in the comments.