Find your Windows 10 or Windows 11 product key with this easy trick:
Press WIN + R, type CMD and press enter. Command prompt will open.
Type (or copy/paste): wmic path softwareLicensingService get OA3xOriginalProductKey
Press enter. You will now see your Windows License key

But wait, you may have a second, different Windows product key (!)
You can also find your key with the Registry Editor. However, the weird thing is, this key may differ from the previous one(!)
Press WIN + R, type REGEDIT and press enter. The Registry Editor will open.
Navigate to (or copy/paste the address): Computer\HKEY_LOCAL_MACHINE\SOFTWARE\Microsoft\Windows NT\CurrentVersion\SoftwareProtectionPlatform
Next to the "BackupProductKeyDefault" key, you will see your Windows License Key.
Why do I have 2 Windows license keys?
If one has 2 different Windows product keys on a machine; this is (most likely) If you upgraded a former Windows 10 license to Windows 11. From what I can tell, the first key (which I got through the CMD command) is the current one, and the one from the registry editor is probably the old/original one.
Why? Well, if you open (WIN+R and type) CMD again, enter slmgr /dli and press enter. A dialog box should pop-up. Mine said: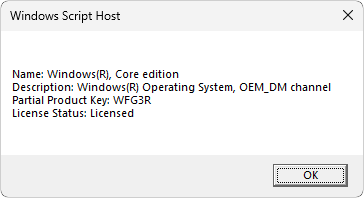 As you can see, the WFG3R matches with the last part of my key, so two out of three wins I guess. But I suppose it's always a good idea to keep both at hand when you want to do a fresh install, upgrade to an updated version or need to recover from a crash.
I hope this helped you, and if anyone can verify if my theory is correct, I'd be very grateful in the comments!