A completely random "Unable to play media" error could ruin your entire evening, but fixing them can be easier than you'd think. Here are 3 potential solutions to common playback errors in the PLEX media apps, without resorting to complex server-side settings.
Force maximum/original quality in PLEX to avoid transcoding-related Unable to play media error
My NAS doesn't support transcoding. However(!) PLEX's default settings will force transcoded content on mobile connections, or whenever it considers the internet connection isn't fast enough. So if the server doesn't support transcoding or doesn't have enough resources available, PLEX simply won't play the file. There's a good chance though (perhaps with a little buffering) it will play the original file anyway.
So, in the PLEX app on your device go to settings >> Quality and change every setting that could indicate any kind of transcoding:
Disable the 'quality auto-adjustments' & 'Save mobile data'
Turn off 'dynamic resolution switching' (if available)
Set all video/audio settings to 'maximum' or 'original' quality
…
You should change these settings anyway if you know the server doesn't support transcoding to avoid errors. It beats me why PLEX doesn't try to play the original file in stead of just showing a playback error. It knows my server can't transcode.
Increase your 'maximum levels for H.264' or even 'disable' them altogether in PLEX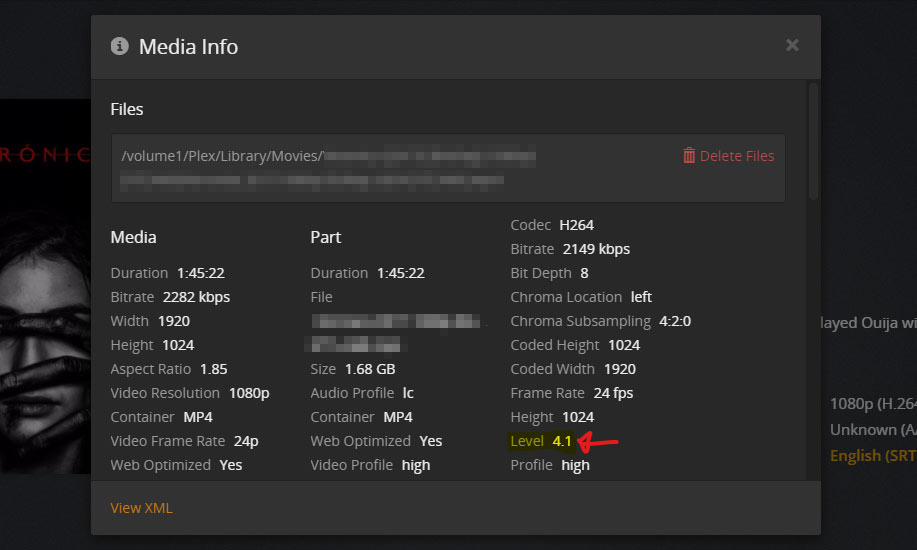 It's not always visible, but on certain systems, when you go to "file information", you'll see the level of h.264 compression. My Android TV stick 'officially' supports levels up to 4.1 (which is the 'recommended' level according to PLEX). When I tried playing a specific episode encoded I got an error because it was encoded at level 5.0.
So go to Settings >> Advanced >> Player >> Maximum level H264 >> and set it to a higher level or disable it. Your device is probably perfectly capable of playing the file(s), even if not officially supported by your chipset. The least you can do is try.
PLEX doesn't recommend increasing the supported levels (which may cause glitches in playback), but I did anyway and it worked like a charm. My Xiaomi Mi 11 'officially' supports level 6.1, but even there I disabled the maximum level for H264 as well. I'll accept a glitch if one should ever occur, but I won't accept mysterious errors.
*Disclaimer: this H264 setting is available on Android and Android TV only. It isn't available in the PLEX app on my LG Oled C9 TV with Web OS 05.10.25*
Check if you have subtitles enabled for your media and disable them
Often VobSub or PGH subtitles need transcoding to 'burn in' the subtitles. And sometimes, even the most basic .SRT subtitles in combination with certain video files will fail as well. I believe this occurs when the PLEX media server doesn't support transcoding. So try disabling the subtitles for the erroneous file before starting playback.
Try changing the audio track of your video
Some movies or series contain multiple audio tracks, and will -by default- be using the most high-end. So if your video tries to start with e.g. a Dolby 7.1 track, it might be the cause of the error if your hardware doesn't support it.
So *if* there's a second, more compatible (e.g. a 2.0 AAC) track available, you could try switching to this track before starting playback if possible. It's a long shot, but it helped me out once.
Did any of these tips help you out? I'd be happy to hear it in the comments! Of course there's also the possibility of outgoing ports being blocked by your host/server or other network related issues, but that's a whole other can of worms…